---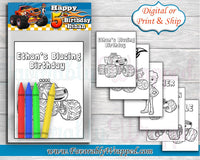 Blaze and the Monster Machine Coloring Pages-Monster Truck Coloring Pack-Monster Truck Birthday Party-Blaze Birthday-Coloring Pages
Favorably Wrapped
Coloring Page Packs
SUBMIT PERSONALIZATION:
-Name
-Age

***PLEASE READ THE INFORMATION BELOW BEFORE MAKING THIS PURCHASE***
***2 CHOICES***
-Coloring Pages (6 coloring pages)
-Connect the Dots Pages (4 connect the dots and 2 coloring pages)
For Digital PDF Coloring Packs-Each file set will include (6) 5x7 coloring or connect the dots pages and the coloring pack topper.
For Assembled Coloring Packs-Each pack is completely assembled with (6) 5x7 coloring or connect the dots pages and a 4-pack crayon set.
-If you don't see a favor you're interested in, please message me.
**********************************
DIGITAL PDF FILE: You will receive a Digital File ONLY with your custom changes. Your PDF file will be emailed to the email on file within 1-3 business days. Nothing will be mailed to you. YOU PRINT AND YOU ASSEMBLE
ASSEMBLED COLORING PACKS:
Your order will be printed and fully assembled with a 4-pack crayon set and MAILED OUT in time for your NEED BY date. Your order will be complete when it arrives to you.
*****************************
You are free to print as many bags as you want with your file using a color inkjet or color laser printer. For best results, a laser printer is recommended. Your PDF file can also be printed at your nearest print shop (Staples, Office Depot, FedEx etc.) Please keep in mind, many print shops will not print licensed characters. I recommend either printing from home or use the self-service printers at the print shop. I DO NOT claim ownership of any licensed characters or graphics and WILL NOT provide a release form to have your items printed. NO REFUND will be given if your print shop refuses to print your purchased file.
Please check your file IMMEDIATELY upon receipt. Please check for errors and misspellings. You must notify me within 24 hours after delivery if there is an issue. If there is no notice within the 24 hours, your file will be automatically emailed to you.
There are NO REFUNDS, NO RETURNS or NO EXCHANGES for custom designs.
Cancellations are ONLY permitted within 24 hours of purchase. NO EXCEPTIONS.
A small version of my logo will be printed on the back of your chip bag.
Recommended papers for best results is any glossy brochure/presentation paper.
Colors may vary due to variations of computers, printers and monitors. Colors printed may appear differently than what is seen on your screen. Paper choice can be a factor also.
COPYRIGHT NOTICE:
I DO NOT claim ownership of any licensed characters or graphics and are not being sold. You are paying for my time and customizing services only. Items purchased are for personal use and may not be resold, shared or altered.